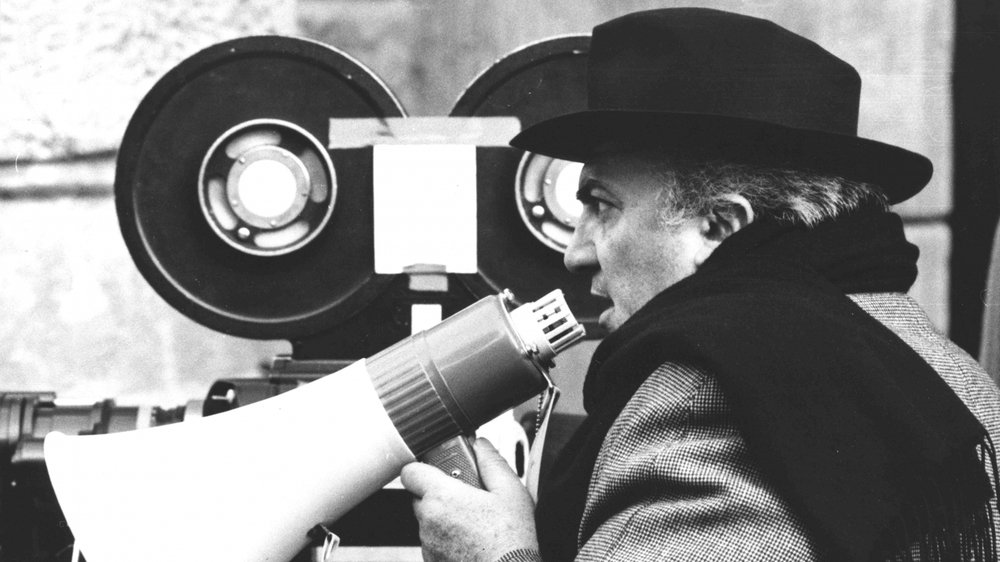 From 1998 - date of the creation of the Fellini Association, which became a foundation in 2001 - to 2017, nearly twenty years of activities in the service of culture, and in particular of the cinema, have brought light in Switzerland and in the world a hundred events - exhibitions, conferences, shows - more than forty catalogues and monographs, a dozen educational programs, and a network of numerous cultural, technical and economic partnerships. The heart of this intense commitment to the service of an international cultural heritage developed a dialectic integrating the museum, academic, scientific, educational and technical activities of the Fellini Foundation in the form of a know-how attentive to the dialogue between tradition and innovation.

Established in 2001 and located in Sion (Switzerland), the Fellini Foundation owns 15,000 original documents related to Fellini's movies and the story of world cinema: drawings, posters, artefacts, photos, scenarios; the collection of the Fellini Foundation is unique in the world. The Fellini Foundation has published 40 monographs, organized and participated in more than 80 exhibitions and events since 2001 in Paris (Galerie Nationale du Jeu de Paume), Lausanne (Palais de Beaulieu, Musée de l'Elysée, Deutsch Museum), Geneva (Musée de Carouge), Bern (Kornhaus Forum), Rome (MACRO, Teatro dei Dioscuri), Madrid, Barcelona, Palma de Majorque (CaixaForum), Amsterdam (Eye Museum), Venice (Palazzo Benzon, Mostra del cinema), Koblenz (Ludwig Museum Koblenz), Milan (Galeria Cartiere Vannucci), Moscow (House of photography), New York (Center 548), Toronto (TIFF Festival), Wroclaw (Nowe Horyzonty Festival), Gdynia (FPFF Festival), Rio de Janeiro, Sao Paulo (Instituto Moreira Salles), Singapore (Nanyang Technological University (NTU) / School of Art, Design and Media (ADM), Rencontres photographiques (Arles), European Economic and Social Committee (CESE, Bruxelles). The Fellini Foundation leads some cultural and academic programs (L'Atelier du regard, lessons of cinema and master classes in the Lyceum des Creusets and its Cultural Space (La Maison du diable, Sion, Switzerland). As part of its activities, the Fellini Foundation directed and produced cultural events and short films. Maurice Béjart created a choreography Ciao Federico in world premiere at the opening of the Fellini Foundation's first international exhibition in Lausanne (2003): Fellini Maestro del cinema. The Fellini Foundation was partner with Gallimard in the edition of Fellini's Biography by Tullio Kezich and Fellini Magicien du réel, the monograph by Jean Gili. The Fellini Foundation developed an innovative and interactive magazine for iPad with IOMEDIA. For the opening of the foundation's Cultural Space (October 12th 2011), the technological partner of Le Louvre-Lens, the French company On-Situ, designed the exhibition space. The Fellini Foundation's Cultural Space in Sion, La Maison du diable organised exhibitions in world premiere about Federico Fellini (2011, 2013), Marcello Mastroianni (2016), Audrey Hepburn (2014), the Golden Age of Hollywood 1919-1939 (2013), the fantasy cinema (2012) and the world famous film/cinema photographers Stephanie Cornfield (award-winning portrait photographer about David Lynch, Jack Nicholson and Kirk Douglas), Marion Stalens (whose works were presented by her sister Juliette Binoche in two master classes), Patrick Swirc (portrait photographer: Catherine Deneuve, Jim Jarmush, Pedro Almodovar, Diane Kruger, Chiara Mastroianni, Clint Eastwood, Tom Hanks, Martin Scorsese, David Lynch), Laure Vasconi (exhibition The cities of cinema, 2017). September 7th, 2018, the Fellini Foundation presents in world premiere the exhibition David Lynch Dreams. A Tribute to Fellini in its cultural center.

The cultural centre La Maison du diable was established in 2011 in Sion (Switzerland), with an international exhibition about the mythic film of Tutto Fellini : Otto e mezzo Photographs of Paul Ronald. The cultural center of the Fellini Foundation is located in an historical (XVIth Century) and patrician residence The Domus Ruris Supersaxo whose popular nickname derives from an old and local legend: the failure of the evil against the good people of Sion.
---
Liens
---
Documents